PURPOSE & PROCEDURE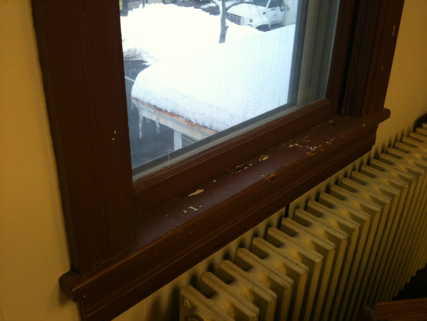 Lead-Paint Testing involves the usage of a portable X-Ray Fluorescence (XRF) analyzer by a Licensed Professional. In a lead-paint inspection, the XRF is used to test each available painted, stained, shellacked or otherwise varnished surface in each room of the subject property. The XRF provides an instant result of the lead concentration in the tested surface, whereby the Lead Professional can create a report demonstrating the testing locations, lead concentration and whether the paint is "positive" or "negative".
In a lead-paint risk assessment, the XRF is used to test only areas of peeling or chipped paint, or areas that represent a "hazard", such as old wood window sashes. A Risk Assessment also includes the collection of dust wipe samples, up to eight (8), which are submitted to a Lead Accredited Laboratory. Dust wipe samples measure the lead in dust concentration and compare against regulatory standards. The Lead Professional will create a detailed report of the testing locations, results, and can state whether or not a "lead hazard" exists.
Clearance testing is conducted at completion of renovation of a residential building constructed prior to 1978 for which no "Lead Free Certification" exists. Similarly, clearance testing is conducted at the completion of a Lead Abatement (removal) project, or after home repairs conducted in a "Lead Safe" manner. Clearance testing includes the collection of dust wipes for submittal to a laboratory. Following lab results, a clearance report is generated by the Lead Professional indicating whether or not "clearance has been achieved".
Existing Salem Clients can login on the left and place an order. Otherwise, place an order below and pay via credit card or request an invoice.
---
Regulatory History
Title X "Residential Lead Paint Hazard Reduction Act of 1992"
24 CFR 35 "Lead-Based Paint Poisoning Prevention in Certain Residential Dwellings"
40 CFR 745 "Lead-Based Paint Poisoning Prevention in Certain Residential Dwellings"
The EPA Renovation, Repair and Painting Rule
With the exception of 11 States, each State has their own regulation with respect to lead paint testing & evaluations. You can reference the
EPA Website Here
which has links to each State and its lead evaluation & testing program.
New Jersey Regulation - N.J.A.C. 5:17 "Lead Hazard & Evaluation Code"
New York City 5 Boroughs have an additional lead paint law Local Law 1
---
Required Licenses or Certifications
State– or Federal License for both individual(s) and businesses as Lead Evaluation Contractors


All Contractors (painters, home improvements, plumbers, etc...) working on pre-1978 housing are required to become an EPA Lead-Safe Certified Contractor to protect exposure to lead dust. If you are a homeowner and are concerned your contractor does not meet this requirement, look for more information on the EPA's Lead RRP Page
---

---